Susanne Skov er 58 år. Hun er bosat i Skive og var indlagt i 13 dage på Viborg Sygehus til medicinafgiftning med start den 8. juni 2016. Jeg har interviewet hende om forløbet.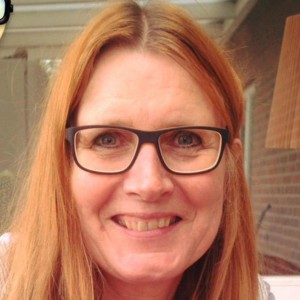 Hvor ofte havde du hovedpine eller migræne før indlæggelsen?
Det var dagligt og jeg var nået dertil, hvor jeg lå ned det meste af tiden. Bare der var det mindste tegn på hovedpine eller migræne, tog jeg medicin. Jeg var så bange for at få anfald. Jeg følte, at jeg havde ryggen mod muren og jeg var nødt til at gøre noget.
Jeg har haft migræne altid, både hormonelt og også udover det. Jeg havde omkring 35-40 sygedage om året og fik faktisk paragraf 56 i slutningen af den tid, hvor jeg arbejdede. Nu er jeg i ressourceforløb og kan ikke passe et arbejde, som det er nu. Jeg har gode dage, men også dage, hvor jeg er hårdt ramt af migræne og hovedpine.
I 2012 kørte jeg galt. Jeg slog hovedet og fik det de kalder et traume. Jeg fik blødninger udenpå hjernen og et piskesmæld. I 2-3 måneder efter havde jeg motoriske problemer og svært ved at huske. Det gik så væk efter nogen tid, men jeg har stadig problemer med min nakke og er slem til at spænde op. Især når jeg bliver bange eller nervøs. Migrænen blev værre efter ulykken.
Hvor meget medicin tog du før din indlæggelse? Migrænemedicin og andet smertestillende?
Jeg tog mellem 25 og 28 triptaner (migrænemedicin) og Treo omkring 15 dage per måned. Min nuværende læge er ikke tilbageholdende med at skrive migrænemedicin ud, hvorimod min gamle læge var meget striks med kun at skrive medicin mod migræne ud til 9 dage per måned, som der står i anbefalingerne.
Hvor ofte har du hovedpine eller migræne nu? Hvor langt er du i forløbet?
Jeg har haft anfald 3 gange siden jeg kom hjem (interviewet fandt sted den 12. juli). Af flere dages varighed. Jeg har fået noget at sove på, når det er værst. Noget der hedder nozinan. Det er 5 uger siden, jeg blev indlagt og jeg har ikke taget andet medicin end nozinan. Det har jeg taget nogle gange. Efter 8 uger skal jeg til samtale om mit fremtidige medicinforbrug. Processen er sådan, at man skal klare 8 uger uden medicin og så kigge fremad.
Hvordan havde du det inden indlæggelsen? Fysisk og psykisk?
Jeg var skeptisk, nervøs og spændt. Jeg var indlagt i et 5 dages forløb i 2011 og det gjorde ikke den store forskel. Jeg fik ingen redskaber eller hjælp til, hvad der skulle ske bagefter og jeg havde også læst om andres negative erfaringer og til og med om nogle, der havde været det igennem 3-4 gange og som ikke mærkede en forskel. Men jeg følte samtidig, at jeg havde ryggen mod muren. Jeg var ude i at have hovedpine eller migræne stort set dagligt, som vi talte om inden og jeg vidste, at jeg tog alt for meget medicin. Da jeg først havde ringet og bestilt tid, følte jeg mig lettet. Beslutningen var taget og nu ville jeg give det en chance.
Hvilke forventninger havde du til indlæggelsen og hvorfor valgte du at blive indlagt?
Jeg var som sagt skeptisk efter min indlæggelse i 2011, men denne gang var jeg indlagt i 13 dage og tænkte, at det ville være rart, at nogle andre hjalp mig med at tage ansvaret. Jeg kender mig selv og ville slet ikke kunne overskue at gøre det hjemme. Der er pligter og jeg ville have svært ved kun at fokusere på afgiftningen eller medicinsaneringen, som de kalder det på sygehuset.
Hvilke tanker har du gjort dig om fremtiden?
Jeg skal som sagt til en samtale efter 8 uger og jeg er positiv. Nu har jeg klaret 5 uger uden og føler, at så længe jeg har nozinanen at sove på, så er det en god løsning for mig. Det er jeg heller ikke bange for at komme til at misbruge, da jeg ikke har et ønske om at sove livet væk. Jeg har prøvet de fleste forebyggende typer af medicin mod migræne og har ikke haft gavn af noget af det. Jeg er ikke interesseret i at få mere forebyggende medicin, men mere at kunne bruge nozinan ved anfald, så jeg kan sove det meste væk.
Fik du nogle værktøjer til at tackle smerter uden medicin?
Jeg fik tid til at tænke en masse under indlæggelsen og fandt faktisk frem til flere ting. Blandt andet at bevægelse kan hjælpe mig under et anfald. Jeg gik blandt andet op og ned af trapper på Viborg sygehus, hvor neurologisk afdeling ligger på 9. etage. Jeg gik også ture og kørte på en kondicykel indimellem. Jeg fik ikke direkte nogle værktøjer med, men som sagt fik jeg tænkt rigtig meget og havde en del aha-oplevelser undervejs. En af mine aha-oplevelser var, at en hovedpine kan gå over. Så når hovedpinen er på vej, kan jeg gå en tur eller hvile mig lidt. Uden at ligge for længe og så forsvinder hovedpinen faktisk nogle gange. Jeg fik meget støtte undervejs i forløbet på sygehuset. Jeg havde daglig kontakt med en fysioterapeut og en ergoterapet. Vi lavede øvelser og talte sammen. Selvom personalet havde travlt, var de simpelthen så søde og imødekommende. De tog sig tid til samtaler. Både fysiotepeuten, ergoterapeuten, sygeplejersken og lægerne. Jeg følte mig virkelig i gode hænder.
Har du noget du vil sige til andre, der overvejer en afgiftning?
At de skal gøre det, selvom de er bange. Jeg kan sagtens forstå, hvis de er nervøse, men jeg vil stadig råde dem til at gøre det. Som sagt var det en lettelse, da jeg først havde bestilt tid og jeg havde en meget positiv oplevelse af forløbet. Jeg ville ikke have kunnet tage mig tiden og opmærksomheden til det hjemme og er glad for, at jeg gennemgik medicinsaneringen på Viborg sygehus.
Hvilke aha-oplevelser/indsigter fik du i forbindelse med indlæggelsen?
Den største aha-oplevelse var nok det med, at hovedpinen kan gå over uden, at jeg tager medicin. Jeg har opdaget, at det er meget vigtigt for mig at holde mit blodsukker stabilt. Altså at jeg husker at spise også mellem måltiderne. Tidligere var jeg slem til at spise noget sødt, men nu tager jeg oftest en skål yoghurt eller et stykke frugt. Jeg skal også huske at drikke nok, hvilket jeg kan have svært ved. Jeg fik faktisk et drop med væske på sygehuset, så nu er jeg ekstra opmærksom på det derhjemme. Min kæreste vækker mig indimellem, når jeg har anfald og sørger for, at jeg får nok at drikke. Til sidst er jeg blevet bevidst om angsten for at få migræne, det havde jeg slet ikke overvejet inden. Men jeg var virkelig nået dertil, hvor jeg tog medicin forebyggende, selvom jeg med min fornuft godt ved, at det ikke virker på den måde.
Interviewet fandt sted den 12. juli. På det tidspunkt havde Susanne klaret 5 uger uden migrænemedicin og håndkøbsmedicin. Jeg har efterfølgende talt med Susanne og hun har nu klaret de 8 uger. Mødet om, hvad der skal ske fremover, finder sted i denne uge.