I bogen "Mor med migræne – Lær at håndtere familielivet før, under og efter graviditet" interviewer vi en række kvinder og nogle pårørende om livet med migræne. I dag får du et uddrag af interviewet med Heidi Buchwald. Hun er 31 år, mor til to piger og bor sammen med sin mand.
Hvilken type migræne har du? Jeg har migræne uden aura.
Hvor længe har du haft migræne? Fra jeg var barn. Jeg kan ikke huske de første anfald, men jeg har vel været mellem 3 og 5 år, da det startede. Jeg turde ikke sige, at jeg var syg som barn. Jeg lod som ingenting, men kan huske, at jeg har ligget med hovedet nede i gulvtæppet og er blevet sendt hjem fra skole, da jeg kastede op.
Hvor mange anfald har du typisk om måneden? 6-8 anfald om måneden i de senere år.
Hvor kraftige er dine anfald? Det svinger meget, alt efter hvornår jeg får taget medicinen. Jeg kan som regel behandle med anfaldsmedicin (sumatriptan). 1-2 gange om året er det dog så slemt, så jeg har behov for morfin.
Hvilken medicin tager du? Jeg er begyndt at tage riboflavin (B2-vitamin). 400 mg forebyggende hver dag. Ved anfald tager jeg sumatriptan.
Hvordan vil du beskrive din migræne? Den er venstresidig, dvs. den sidder som regel i venstre side af hovedet. Det er ikke smerterne, der er det værste. Det er som om, at "hjernen forsvinder". Jeg har intet overskud. Jeg bliver forvirret, drænet og har ikke overskud til andet, mens det står på.
Hvordan føles det, når du har migræne kontra, når du er migrænefri? Det er en svær balance. Når jeg er migrænefri, er jeg velfungerende. Går på arbejde, når jeg ikke som nu er på barsel selvfølgelig. Vi er som de fleste andre familier. Bortset fra, at jeg som mor indimellem må tage en pause.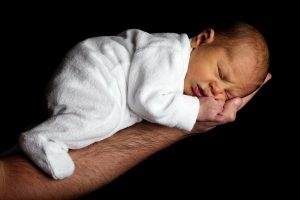 Hvilke overvejelser gjorde du dig i forhold til migrænen, mens du prøvede at blive gravid? Jeg havde ikke så mange overvejelser i forhold til min anden graviditet, men i høj grad i forhold til min første. Tidligere havde jeg nemlig 28 anfald om måneden og tænkte, at det med børn nok ikke var aktuelt.
For hvordan skulle jeg kunne klare det med så mange anfald?
Men i 2009 fik jeg en migræneoperation i Tyskland, hvor de fjernede øjenbrynsmusklen. Det betød, at jeg efterfølgende kom ned på 6-8 anfald per måned. For mit vedkommende var det total luksus, for jeg havde jo været vant til det andet.
Hvordan vil du beskrive et familieliv med migræne? Vi lever et traditionelt familieliv, hvor jeg som mor, så indimellem må tage en pause. Og så drikker jeg nok lidt mere cola end de fleste andre mødre. Cola giver mig et energikick op til eller under anfald.
Nu er vores ene datter jo større, så det er lettere at forklare hende, når jeg har det skidt. Jeg siger f.eks. "mit hoved er sygt" for at forklare hende, at det er mere end bare en hovedpine. Hun er rigtig god til at lege selv og så er vi gode venner med Ramasjang, når jeg har migræne. Men jeg er bange for at svigte og kan få dårlig samvittighed.
Har du nogle gode råd eller tips, som du har haft glæde af og som du vil give videre til andre? Mit bedste råd er at have et positivt mindset. Det er lettere sagt end gjort, men det andet er ikke til at holde ud. Jeg prøver virkelig at få det bedste ud af det og have et positivt mindset overfor mig selv og mine omgivelser. På den måde kan jeg faktisk også bedre håndtere smerter. Jeg har nok altid haft et positivt sind.
Enhver er sin egen lykkes smed. Også mig, selvom jeg er født med migræne. Desuden har jeg oftest gavn af medicin ved anfald, så det er til at holde ud.
Ps. I forbindelse med bogen 'Mor med migræne' har vi oprettet Facebookgruppen af samme navn. Gruppen kan bruges til erfaringsudveksling og sparring medlemmer imellem og så kommer vi med mindre uddrag fra bogen og andre relevante opslag om livet med migræne. Vær med her.